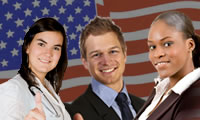 The Military Spouse Career Advancement Initiative is designed to advance military spouses into portable careers by providing them with education and training in high-growth, high-demand occupations in Information Technology, Education, Health Services, Financial Services and the Construction Trades. Career Advancement Accounts are flexible education funding accounts to pay for expenses directly related to post-secondary education and training, including tuition, fees, books, equipment, and credentialing and licensing fees. The initiative targets military spouses with a GED, high-school diploma or some post-secondary education and who are married to active-duty service members in the grades of E1-E5 and O1-O3. Military spouses in need of renewing credentials (for example, nursing and teaching certificates) upon relocating are also eligible. Accounts may be up to $3,000 for one year, and may be renewed for one additional year, for a total two-year account amount of up to $6,000 per spouse.The Department of Labor (DOL) and the Department of Defense (DoD) are jointly investing $35 million in eight states demonstrating this initiative (California, Colorado, Florida, Georgia, Hawaii, Maine, North Carolina, and Washington) targeting 18 military installations. Installation Voluntary Education Centers will initiate military spouse applications and forward them to local One-Stop Career Centers for account establishment and issuance. Voluntary Education Centers and One-Stop Career Centers will collaborate to provide career counseling, guidance and assessments to support military spouse career and education choices. Counseling will include referrals to other supportive services to help military spouses successfully achieve the education and credentials they need to obtain and retain portable careers in high-growth, high-demand occupations.The demonstration states and installations are:
California (San Diego Metro and Camp Pendleton Marine Corps Base)
Colorado (Fort Carson Army Installation and Peterson Air Force Base)
Florida (Jacksonville Naval Air Station, Eglin Air Force Base, and Hurlburt Field)
Georgia (Fort Benning Army Installation)
Hawaii (Hickam Air Force Base, Naval Station Pearl Harbor, Kaneohe Bay Marine Corps Base, and Schofield Barracks Army Installation)
Maine (Naval Air Station Brunswick)
North Carolina (Fort Bragg Army Installation and Pope Air Force Base)
Washington (Fort Lewis Army Installation, McChord Air Force Base, and Naval Station Kitsap)
Teams of DoD and DOL staff have jointly trained participating installation and state/local community workforce staff on partnership implementation and will be providing ongoing technical assistance. Both departments will also work collaboratively with employers in the targeted industries to encourage military-friendly hiring and career advancement practices. The first accounts will be issued to allow training to begin in January 2008 to coincide with the education enrollment cycle.